This is a Sponsored post written by me on behalf of ZzzQuil. All opinions are 100% mine.
With all of the hustle and bustle of moving and vacation planning, not to mention all of my regular duties like mothering and working, I have been getting a little stressed lately.  I was finding that the stress of trying to get as much done in the day as I could left me anxious and unable to sleep soundly at night. My boyfriend, Travis, takes Melatonin as a sleep aid every once in a while, but sometimes he says it doesn't work and I didn't want to take something if it wasn't going to do me any good.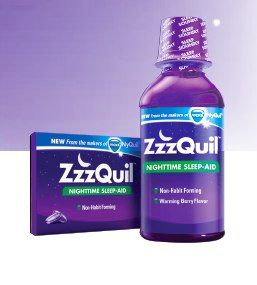 Enter ZzzQuil! I got a free sample from P&G and I was pleasantly surprised to see that it was a whole bottle of the sleep aid.  It was easy to see that ZzzQuil is made by the people who bring you the reliable NyQuil, which has always been a staple in my medicine cabinet.  The bottle looks the same; same shap, same size, same font. In fact, I've been so accustomed to seeing NyQuil in my bathroom cabinet for so long that at first that's what I thought it was.  It was almost comforting to see something recognizable and it made me feel like I could really trust this P&G product the same way I trusted their other products. 
Following the instructions, I timed my dosage according to when I had to wake up the next day.  Around 9:00 pm I took the berry flavored drink.   Well, the so-called berry flavored drink.  It tasted like... you guessed it, NyQuil, with (perhaps?) a hint of berry.  Not my favorite flavor, but nothing too terrible.  I sat up and watched TV for about an hour before I started to feel drowsy.  I noticed that it wasn't overwhelming.  It was the kind of drowsy that I could fight and stay awake if I wanted to - no drugged, cloudy-headed feeling. 
I was excited that the ZzzQuil was working and got under my covers and... fell asleep. And stayed asleep. Actually, I stayed asleep until I woke the next morning with sun streaming in my window.  I spent the next day with my family feeling like I had a full night of sleep.  I felt a little drowsy at first, but that went away after I had my morning coffee.  The great thing about ZzzQuil is that is is only for sleep.  You're not taking medicine to treat symptoms you don't have.  You're just getting exactly what you need - rest. 
But, you don't have to take my word for it.  You can try it yourself, or for news about ZzzQuil you can like them on Facebook.  You can also tweet your experience or read others' experiences on twitter using #ZzzQuilNight.